The current socks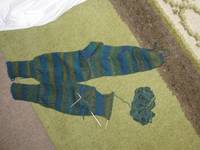 I think I'm getting the hang of this blog thing.
Essentially, in later life, I have become a one-WIP-at-a-timer. But there are extenuating factors.
I have one WIP here in Edinburgh -- currently the Baby Surprise which I should cast off and begin finishing today.
I have a different WIP in the country, at our small house in Strathardle. We're going there later this week -- I'll come back I hope with a picture of that WIP (also nearly finished) and one of the house, to set the scene.
And I always, of late, have a pair of socks on the go, for waiting rooms, committee meetings and travel. I had a doctor's appointment yesterday, and got the current pair all the way to the heel flap of the second sock. See above. But sock-production is low in '04. We haven't travelled abroad. I'll only finish three or maybe four pairs this year, instead of my usual six or seven.