We're going to the country today -- back Thur or Fri. Winter is putting up some spirited resistance in its retreat, but the forecast this morning predicts that spring is about to join us.
My sister sounds well. She had been afraid she would have to cancel the work scheduled for this week, but she is able to go ahead.
The scarf is under way --
The Alpaca Scarf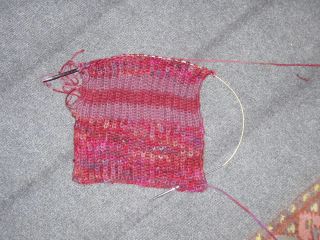 The picture is terrible. The colours are in fact dark, rich reds.
The beginning proved a dreadful struggle. At the point where we left off yesterday, I had decided to switch to fisherman's rib. I didn't like the effect and there was a technical problem, too boring to describe, about my plan of starting with a few inches of the main shade and then switching to shadow stripes.
So I ripped it out yet again and thought I'd return to brioche stitch, with shadow stripes from the start. I followed the directions in IK precisely, and came to grief again. The two-colour instructions are not as elaborate as the basic ones, and don't include an illustration. I may have been doing it wrong. If I was right, the "brioche purl" is not as easy a manoeuvre as the knit stitch in plain brioche.
By this time I was feeling panic-y, as when one has chosen the wrong question to attempt on an examination, and time is running short.
I ripped again and tried pure one-colour brioche from the IK instructions. Another failure.
I hurled IK away (not really) and got out KWT, remembering that I had knit some watchcaps in brioche stitch from its pages. EZ was, as ever, a great comfort as well as a faithful guide. Brioche stitch is not easy -- "[It] is written on my heart like Calais on Mary Tudor's," she says. She describes it as a "richer and fruitier" rib than fisherman's. "Fruitier" is perfect. The instructions can be found in the index under "H" for "hat".
Maybe when this is over I will do myself a swatch of brioche and fisherman's -- there are various ways to do that -- and anything else in their group, and try to figure out the structure. My knitting knowledge is pretty limited in that respect.
Rugby
Most of the interest is gone now. At the beginning of the weekend, both Wales and Ireland were still unbeaten, and we were looking forward to next weekend when they play each other. But France spoiled the fun by beating Ireland on Saturday, in a good game. The other two were dull -- England beat Italy (everybody beats Italy) and Wales beat Scotland (everybody except Italy beats Scotland).