The oculist rang up yesterday. I have an appointment this evening to meet the man who is going to do my eye-replacement operation, and have some tests. I had begun to hope they would forget all about it.
Yesterday I visited Mary Morrison's blog, inspired by her comment here. It has been added to my Blog list, and I will visit often. Apart from the interest of her own writing, she provides a list of links to knitterly sites -- I've only followed the first one, so far, although I plan to work my way conscientiously through them all. The first is for a Shetland lace site, a Canadian woman, whose work is of simply breathtaking beauty, and I knew nothing about it. I find I can't leave this text behind and go get Mary's URL for you, so I'll put it in tomorrow. But it can easily be found in her comment here, a couple of days ago.
Mary rightly aaid that the Elizabeth Lavold pattern was the only thing of interest in the current Knitter's. I have EL's first book, and admire it extravagantly, although I have yet to knit anything from it. I'm interested in her yarn, of which I have read great things. It looks dull, in the photograph in Knitter's and in the Patternworks catalogue. But I don't believe it.
Here is how I keep yarn when I am doing a multi-coloured project:
The Fair Isle jacket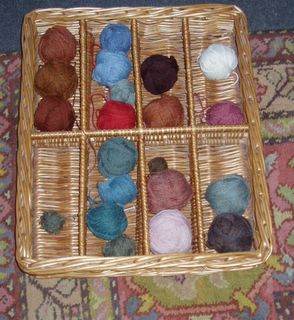 I think the container was intended for butlers to keep silver knives and forks in, in their butler's pantries. My husband bought it for me many years ago, and I find it very useful.
The new British magazine Knitting, now monthly, turned up yesterday. And I have knit 11 inches of the first jacket sleeve -- I need 14, and then the wrist-ribbing. So the end is in sight. Of that, and of my eye appointment, more to come...